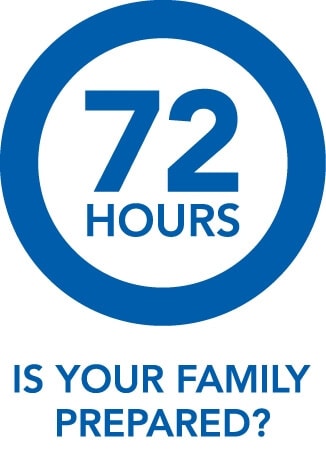 Preparation is an important and necessary part of surviving a disaster. Emergencies can happen suddenly and without warning. When disaster strikes, you may find yourself without power or access to clean, running water. You may be stranded and unable to reach family and friends. You may also find yourself without help for up to 72 hours. Prepare for emergencies with a 72 hour grab and go bag. A grab and go bag is a pre-packed bag filled with things you may need for 72 hours if you have to suddenly evacuate your home.
BE INFORMED
Be informed by finding out what type of emergencies can affect you and learning how you should be prepared for them. Go to the following link for more information – CLICK HERE
Sign up for TuscALERT to get the latest weather alerts and other important updates - CLICK HERE
MAKE A PLAN
Make a plan with your family of what you will need to do to communicate and stay safe in an emergency as well as finding each other during or afterwards. Go to the following link for more information – CLICK HERE
Learn How to Take Shelter: At home, at work, or out shopping click to learn how to take shelter at the location you are in.
Family Disaster Plan: A family disaster plan is a document that outlines how to prepare your family to face an emergency.
Disability/Special Needs Disaster Plan: A special needs/disability disaster plan is a document that outlines caring for a special needs person or a person with disabilities in an emergency.
FEMA Individuals with Disabilities
Red Cross Special Needs Emergency Preparedness
Business Disaster Plan: A Business Disaster Plan is a document that assists business and industry in planning for disaster, including the safety of employees and protection of corporate assets. The 2019 version is available for purchase at

NFPA.org
School Disaster Plan: All school districts, colleges, and Universities have disaster plans specific to their District. Please check with your child's school.
Others who should have disaster plans: Check with these organizations to see if they have a plan in place and request to review the plan. If a plan is not in place, templates are available through FEMA, The American Red Cross, and the healthcare accrediting agencies.

Apartment Complexes
Day Care/Pre-School
Assisted Living Facilities
Skilled Nursing Facilities
Hospitals
Insurance: The U.S. Department of Homeland Security's Federal Emergency Management Agency (FEMA) recommends for homeowners to schedule an appointment with an insurance agent. Agents can provide owners and renters with a policy that matches their needs when provided with a home inventory list. In addition, after a disaster, an inventory can help provide proof of personal property loss. Government and industry officials also recommend taking photos of the outside of a home as well as all contents, and to store these photos together with the inventory list in a safe place away from the house.
Property owners may be required to have both hazard and flood insurance. Renters should also consider insurance to protect personal belongings. Standard hazard policies may require additional riders for items such as collectibles, jewelry and/or damage from sewage backup. Disaster assistance from FEMA and other agencies cannot provide the extensive protection individuals can get from insurance.
It takes 30 days for a flood policy to take effect, so you need to purchase flood insurance before flooding happens.
BUILD A KIT
Build a kit with the supplies necessary to survive during and after an emergency. The following link has detailed information about what should be in an emergency kit – CLICK HERE
For more information, visit the following websites:
Ready Tuscaloosa website – CLICK HERE
Ready Alabama website – CLICK HERE
FEMA preparation and safety website – CLICK HERE
ACTION STEPS
Click here to see action steps for homes or businesses that may help you prepare and reduce the impact of a disaster.