Are You Prepared for an Emergency?
FREE CERT TRAINING COURSE
March 7, 2023 - April 6, 2023
Every Tuesday & Thursday Evening
No Class during the week of March 12th due to Spring Break
Deadline to Register was February 28, 2023, for the Spring Class
This CERT program is designed to teach communities the skills to react as a cohesive and valuable asset during emergency situations. In situations such as natural disasters, first responders' primary focus is on those in immediate danger. CERT allows members of the community to provide assistance and take care of family, neighbors, and areas that may be less impacted but still need help. More information about the CERT training can be found here. This training does NOT require you to be a part of a response team. The goal of the course is to help students gain the knowledge and training to help themselves and others whenever the need may arise.
The Community Emergency Response Team (CERT) is a program that educates individuals about disaster preparedness for hazards that may impact their area, and trains them in basic disaster response skills such as, fire safety, light search and rescue, team organization, and disaster medical operations. Using training learned in the classroom and during exercises, CERT volunteers can assist others in their community following a disaster when professional responders are not immediately available to help.
CERT training is provided free by the Tuscaloosa County Emergency Management Agency (TCEMA). Those who attend a minimum of 7 of the 8 sessions, successfully complete the practical exercise with hands-on instruction in fire suppression, search and rescue, and medical training will receive a certificate of completion. Please note, you are only allowed to miss ONE session and Session 8 attendance is MANDATORY to complete the course.
The CERT program is designed to teach communities the skills to react as a cohesive and valuable asset during emergency situations. Community members who go through CERT will learn the basics of first aid, search and rescue, fire safety, emergency preparedness, and other valuable skills. In addition to basic CERT knowledge, trainees will also go through a storm spotter class and learn about opportunities to volunteer in their communities outside of a disaster response.
CERT training is open to Tuscaloosa County residents 18 and older. The classes will be held as a series of eight 2.5, 3, or 3.5 hour sessions. All class locations will be held within Tuscaloosa County. While the training is free, there is an optional fee for a basic disaster response kit. All students are subject to a certified background check and TCEMA approval. Spots are limited and provided on a first come, first served basis. Once capacity is reached, a waitlist will be generated. You will receive a separate email if your registration has been confirmed.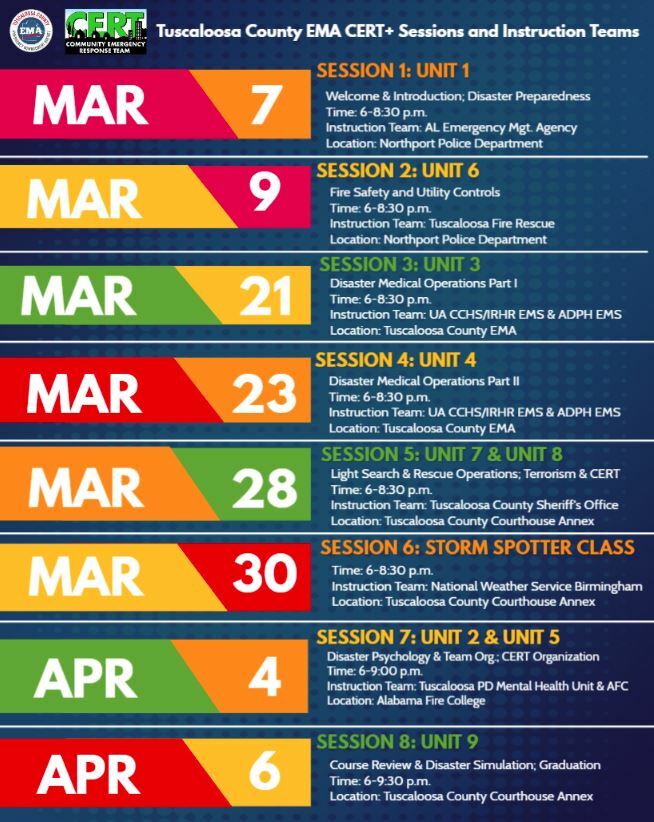 CERT+ classes are sponsored in part by: Alabama Fire College, Tuscaloosa County Sheriff's Office, Tuscaloosa Fire Rescue, National Weather Service Birmingham, Tuscaloosa Police Department Mental Health Unit, University of Alabama - College of Community Health Sciences.
About CERT
The Federal Emergency Management Agency, using the model created by the Los Angeles City Fire Department, began promoting nationwide use of the Community Emergency Response Team (CERT) concept in 1994. Since then, CERTs have been established in hundreds of communities. CERT training promotes a partnering effort between emergency services and the people that they serve.
The goal is for emergency personnel to train members of neighborhoods, community organizations, or workplaces in basic response skills. CERT members are then integrated into the emergency response capability for their area. If a disastrous event overwhelms or delays the community's professional response, CERT members can assist others by applying the basic response and organizational skills that they learned during training. Training exercises include disaster preparedness, fire safety/suppression, disaster medical operations, light search-and-rescue operations, CERT organization, psychology and terrorism. These skills can help save and sustain lives following a disaster until help arrives. CERT skills also apply to daily emergencies.
About CERT… CERT members maintain and refine their skills by participating in exercises and activities. They can attend supplemental training opportunities offered by the sponsoring agency and others that further their skills base. Finally, CERT members can volunteer for projects that improve community emergency preparedness.
Mission Statement: Doing the Greatest Good for the Greatest Number of People