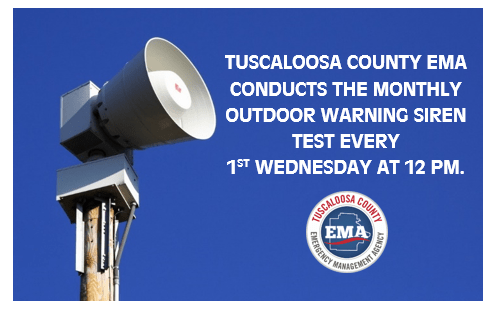 Siren Overview
There are 72 sirens countywide.
The sirens are primarily used for tornado warnings, but can be used for any emergency where the public needs to seek shelter quickly.
The sirens are tested on the first Wednesday of every month at 12:00 pm. If severe weather is in the forecast or is observed in the area, the monthly test will be postponed until the following week.
Important Tips
When you hear Outdoor Warning Siren System, you should seek shelter and seek information.
If you are outside, you should seek shelter indoors, preferably in a stairwell, basement, or the lowest building level. Do not open windows. Click here for more information.
Once you are inside a secure location, tune to local media (TV, radio, mobile device, etc.) or NOAA weather alert radio to be informed of the storm location, path and the duration of the warning.
There is no "All Clear" sound that the sirens make, nor does the National Weather Service (NWS) issue an all clear message.
The sirens are loud (130db at 100ft), but are not designed to be heard indoors. If you are within a couple of blocks of a siren, you may hear them indoors, but their intent is to be heard by people outside.
Stay informed about emergencies and other important community updates by signing up for the

TuscALERT

system.
Frequently Asked Questions
1. What does it mean when I hear the outdoor warning sirens? In short, it means that something life-threatening is happening and you should go indoors and get more information. The specific guidelines (tornado, hail ,wind, etc.) for sounding sirens varies by jurisdiction, so check with your local community to find out the specifics if you are interested.
2. What should I do when I hear the outdoor warning sirens? When the sirens are heard, go inside and tune to local media to get more information.
3. Why can't I hear the outdoor warning sirens in my house? Sirens are an outdoor warning system designed only to alert those who are outside that something dangerous is approaching.
4. How can I get alerts when I'm at work or in my house? For alerts indoors, every home and business should have a NOAA Weather Radio All-Hazards. NOAA Weather Radio is like a smoke detector for severe weather, and it can wake you up when a warning is issued for your area so you can take appropriate action.
5. When are outdoor warning sirens tested? Sirens are tested according to local community or state policies. In the Tuscaloosa County area, this is on the first Wednesday of each month (unless there is medium to heavy rain or chance of severe weather).
6. Why don't the outdoor warning sirens sound an all-clear signal? People should be indoors and monitoring local media for updates on the storm.
7. Why are the outdoor warning sirens sometimes sounded for hail and wind? When thunderstorm winds exceed 70 mph, trees can be uprooted or snapped. Hail that is golf ball sized or larger can break windows. Both of these things pose a direct risk to life if people are caught outdoors. An increasing number of communities (including in the Quad Cities area) are incorporating these threats into their outdoor warning siren policies.
8. How often can I expect the outdoor warning sirens to sound for severe weather? Historically, the Tuscaloosa County area experiences severe weather in the Fall and Spring each year. You can find information about past storms and their frequency in your community through the National Climatic Data Center.
9. Will the outdoor warning sirens warn me of every dangerous storm? The safest approach is to be proactive and use all of the information available to protect yourself and your family from threatening weather. Nothing can replace common sense. If a storm is approaching, the lightning alone is a threat. Sirens are only one part of a warning system that includes preparation, NOAA Weather Radio, TuscALERT and local media.
10. Who activates the outdoor warning sirens? Sirens are typically activated by county Tuscaloosa County Emergency Management personnel.
11. Does the National Weather Service recommend guidelines for sounding outdoor warning sirens?Nationally, no. However, the local NWS office in Birmingham partnered with local emergency managers to develop the recommended siren guidelines that have since been adopted by many local communities.
12. Where can I get more information? Check out these other resources: