Cold Weather Safety
January 13, 2022
Temperatures have dropped in Alabama this week, and Tuscaloosa County has been under some colder weather for several days. Cold like this comes every winter and affects millions of people across the United States each year, but it isn't as common in Tuscaloosa, so you may not know what to do.
Remember the 4 P's! People, Pets, Plants, and Pipes!
The first thing you should remember during cold snaps is to protect the 4 P's - people, pets, plants, and pipes! The elderly and the very young are the most susceptible to cold-weather illnesses, such as frostbite or hypothermia. Check on your neighbors and family members to make sure they have adequate heating. Pets need warmth too - either bring them inside during extreme cold temperatures or provide them a warm place to stay outdoors, somewhere off the ground and blocking the wind. Be sure to check their water for ice - you may need to break the ice up several times a day to be sure your pet has fresh water to drink. Vulnerable plants should be brought indoors before the first frost, but if you leave them outdoors a little longer, be sure to bring them inside before a hard freeze! If left outside in freezing temperatures, plants will die. Finally - insulate your pipes and leave a little water dripping to prevent them from freezing.
Heat Safely!
Sometimes people need a little extra heat to keep warm during extreme cold temperatures, which can lead to the use of portable heaters, space heaters, or fireplaces. If you are using these to keep warm, be sure you are using them properly! Improper space heater use is one of the #1 causes of home fires. Don't leave heaters unattended, and keep all flammable items at least 3 feet away from the heater - that includes people and pets! If you're using a fireplace, make sure to get it inspected prior to the first use and use the proper gates to keep sparks from landing in your home. Get more details on heater safety by CLICKING HERE and fireplace safety by CLICKING HERE. If your power goes out and you decide to use a generator, be sure to use it outdoors! Never use a generator, no matter what size, inside of a home.
Be Prepared!
Check the forecast to keep updated on temperatures and wind chills, especially if you are planning on traveling or being outdoors. Update your car safety kit to include cold-weather items like a blanket, kitty litter or sand (for traction), an ice scraper, and extra warm clothes. When going outside, dress in layers that are easy to put on and remove as the temperature or your activity changes. Cover exposed skin to reduce your risk of frostbite or hypothermia. Try to seek shelter from the wind as much as possible while outside. Know the signs of cold-weather illnesses. People exposed to extreme cold are susceptible to frostbite in a matter of minutes. Areas most prone to frostbite are uncovered skin and the extremities, such as hands and feet. Hypothermia is another threat during extreme cold. Hypothermia occurs when the body loses heat faster than it can produce.
Learn Weather Terms!
There are quite a few weather watches and warnings that are issued during cold weather, and not all of them are the same across different parts of the country. Take some time to learn about the different cold-weather advisories that Tuscaloosa County could receive during cold weather.
Winter Storm Watch

Potential for snow (>2"), sleet/ice pellets(>1/2"), freezing rain/drizzle (> 1/4"), or combination. (This is issued 12-48 hours prior to events, sometimes as much as 72 hours, when forecast confidence is medium.)

Winter Weather Advisory

Medium confidence for snow (1/4" -2"), sleet/ice pellets (<1/2"), or freezing rain/drizzle (<1/4"), or a combination. (This is issued up to 36 hours prior to the event.)

Winter Storm Warning

Snow (>2"), sleet/ice pellets (>1/2"), or a combination. (Issued up to 36 hours prior to event.)

Ice Storm Warning

​​​​​​​Freezing rain/drizzle (> 1/4") (Issued up to 36 hours prior to event.)
​​​​​​​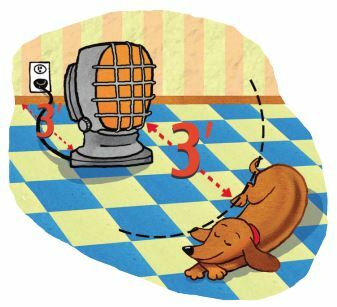 Keep or maintain a three-foot clearance between all heating equipment and anything that can burn. Picture provided by the NFPA.
A Few Other Safety Tips
Determine a good date to cover outdoor water spigot or faucets.

Set a date to winterize your pets bedding if they stay outside.

Set a date to winterize your boats, RVs, or other items you may have.

It may be warm when you go out for the day, but bring a coat as it is getting colder sooner.

Set a date to go over your family's cold weather plan.

Never use gas or charcoal fueled heaters inside your home.

Never use an oven to heat your home.

Never plug a heater into a power strip or extension cord, plug them directly into the wall outlet. Cords and strips are not designed to handle the high current flow and can overheat or catch fire due to the added energy flow.
For more tips

CLICK HERE

.