LEPC Semi‐Annual MEETING NOTICE
July 14, 2021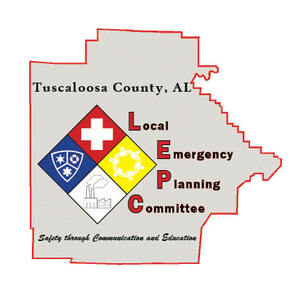 Semi‐Annual MEETING NOTICE
The Tuscaloosa County Local Emergency Planning Committee (LEPC) semi‐annual meeting is scheduled for Thursday, August 19, 2021 from 10:00 a.m. to 12:00 p.m.
Registration starts at 9:00 a.m.
The meeting will be held at: Alabama Fire College, 2501 Phoenix Drive, Tuscaloosa, AL 35405.
Directions: take Hwy 69S toward Shelton State. The Alabama Fire College is behind Shelton State campus. Additional details on meeting room location will be provided upon registration.
Please RSVP no later than Tuesday, August 10th.
Visit

LEPC 2021 Signup

to RSVP. Each person attending must register separately!
We are also adding a virtual option. If you would like to attend virtually, please send an email to lepc@tuscco.com and you will receive login information. If you have already registered and you selected the lunch option but will no longer need a lunch, PLEASE email lepc@tuscco.com and let us know asap so that we can adjust our lunch number accordingly!
If you have issues with registration, call Tuscaloosa County EMA at 205‐349‐0150.