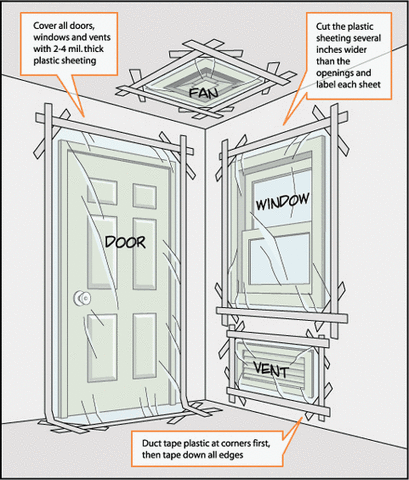 A few tips for you and your family to shelter in place in a chemical or hazmat emergency:

1. GO INSIDE IMMEDIATELY.
Seek the nearest enclosed structure, whether it's a house, business, garage, or vehicle. If you know of any unattended children in your neighborhood, call them and tell them to remain indoors. Keep any pets inside also. Gather emergency supplies like a portable radio, flashlight, and extra batteries. Parents should NOT go to the schools to pick up their children unless advised to do so by local authorities.

2. CLOSE UP.
Close all doors, windows, and other sources of outside air. Turn off air conditioning or heating systems and close the fireplace damper to keep chemical vapors from entering. Ceiling fans or rotary fans inside the building can be safely used to keep cool.

Cover any gaps, holes, or cracks with wet towels or sheets to prevent vapors from entering your home. Go to the highest room above ground (NOT YOUR BASEMENT) with the fewest windows and doors. If you have trouble breathing, contact 9-1-1 and cover your nose and mouth with a damp washcloth, then take slow, shallow breaths and try to stay calm.

3. STAY INFORMED.
Stay off the telephone. City and County officials may try to telephone your home or business using the computerized telephone notification system. Do not call police, fire, or 9-1-1 unless you are reporting an emergency at your location. Overloaded phone circuits may keep actual emergency calls from getting through.
For a video from FEMA on how to Shelter in Place click: Here for Video
Should an event occur tune into local sources for important updates. Some of those could be:
Television
Radio
Social media
Sign up for

TuscALERT

as updates can be given out through it.